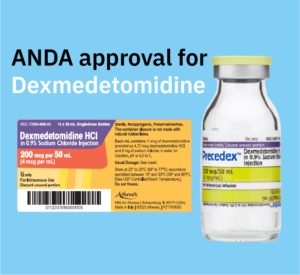 We are proud to announce that it has received FDA approval for its generic version of Precedex®, Dexmedetomidine Hydrochloride Injection. The product is set to launch very soon.
Dexmedetomidine Hydrochloride Injection plays a vital role in sedating patients who are initially intubated and mechanically ventilated during intensive care treatment. Administered through continuous infusion for a maximum duration of 24 hours, it offers effective sedation.
Notably, Dexmedetomidine Hydrochloride Injection is currently experiencing supply issues and is listed on the FDA's Drug Shortages list. This recent approval will significantly contribute to alleviating the supply challenges faced in the U.S.
This accomplishment marks a significant milestone for Milla Pharmaceuticals Inc. and the Alter Pharma Group. It is the second "First Cycle" Approval following the successful approval of our Sodium Acetate Injection 2MEQ/mL ANDA in the Summer of 2021. This achievement represents the approval of our second Paragraph IV Filing and the 5th overall ANDA approval for the Alter Pharma Group.
Check out the press release here!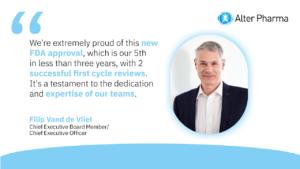 Share this article on